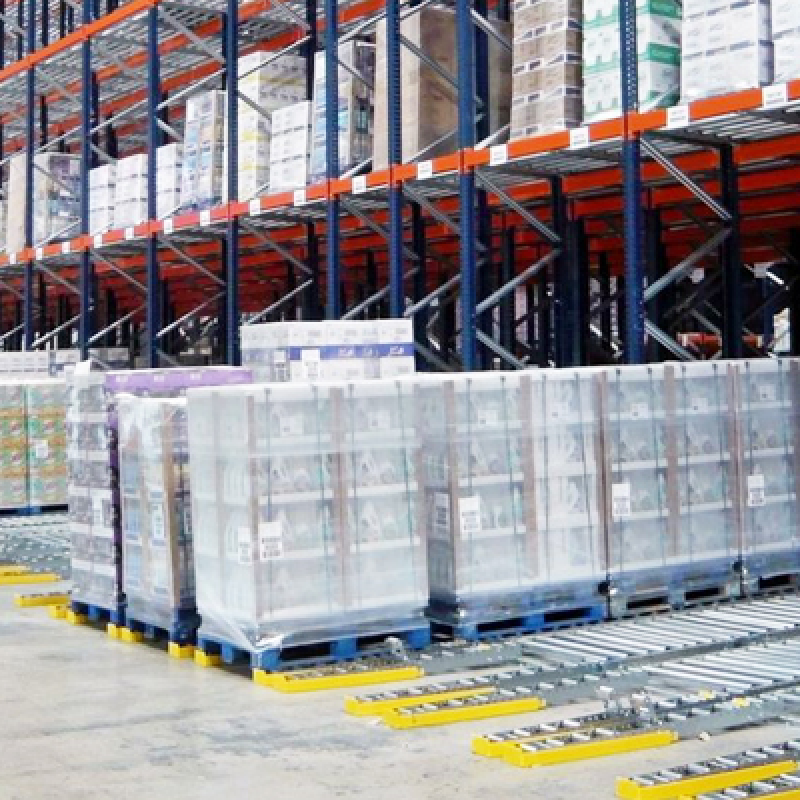 Pallet Flow Racks
First in first out gravity assisted Pallet Rack
Pallet flow racks consist of pallet rack with roller lanes installed on the beams at a slight decline. Pallet loads are delivered into the rear of the rack assisted by entry guides and the load then flows to the front face via the gravity assisted roller lanes until it reaches the pallet stop. 
Pallet flow racking utilizes a first in first out (FIFO) system of operations and works best for products that must be rotated due to time sensitivity.
Benefits
Features
Recommended Uses
•  High density storage
•  Separate loading and picking aisles allow safer movement between fork lifts and employees
•  FIFO – constant product rotation, best for time sensitive products
•  Allows for multiple pallet sizes and weights to be used in pallet flow systems
•  Increased order picking efficiency due to shorter travel time and quicker retrieval
•  Pallet replenishment does not interfere with lift truck picking
•  Available in roll formed or structural steel
•  Roller lanes mounted on beams allow pallets to glide down to the pallet stop at the front end
•  A braking system on the roller lanes ensure pallets speed is controlled
•  Pallet stops keep the pallet from rolling off the front end
•  FIFO – First in First Out storage and retrieval
•  Pick Module and Staging areas
•  Large value per SKU
•  High throughput
•  Ideal for time sensitive products
•  Food and Beverage facilities
•  Grocery and drug distribution facilities
•  Freezer and Cooler facilities
•  Transport area – where facility uses a flow design for product staging
Explore other racking systems we offer
Our large inventory features an extensive collection of warehouse rack storage systems for every need, including static and dynamic pallet racks, automated systems, and more. Whatever you are looking for, you can find it here. We fully customize every system to fit your industry's specific needs.
Storage solutions by industry
Not sure what racks might work best for your space? Browse our industry specific solutions and their recommended products
Interested in this product?
TALK TO A RACK

SPECIALIST
We'll recommend a custom solution for your space.