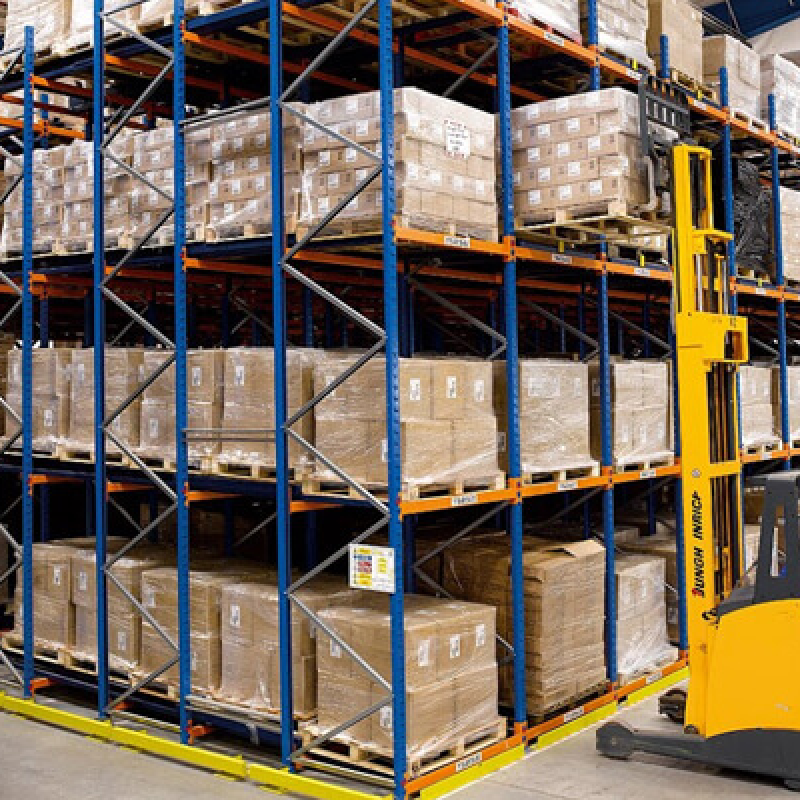 Push-Back Racks
High density storage on carts & wheels
Push-back racks provide an excellent combination of pallet accessibility and high density storage. In a push-back pallet racks system, a pallet is placed by the lift truck onto a "cart" and then "pushed back" into the rack by the next pallet being loaded into the rack system.
Although push back racking is the most capital intensive, it offers the highest density storage without the added liability of forklift operators entering the racking structure.
Benefits
Features
Recommended Uses
•  Eliminates aisles, increasing storage density
•  Flexibility to store multiple SKUs on each level
•  Low profile cart stack offers maximum storage height
•  Suitable for all pallet sizes
•  Improved selectivity of multiple SKUs compared to drive-in rack
•  Reduced forklift handling time compared to drive-in rack
•  Decreased chances of forklift operators damaging rack compared to drive-in rack
•  Minimizes honeycombing effect compared to drive-in rack
•  Available in roll formed or structural steel
•  Pallet is stored on a carts-on-rails system
•  Each push back lane can accommodate 2-6 pallets per bay
•  Pallet stops keep the pallet from rolling off the front end
•  LIFO – Last In First Out storage
•  Inventory with multiple SKUs
•  Facilities with different sizes pallets­­
•  Facilities with high turnover rate
Explore other racking systems we offer
Our large inventory features an extensive collection of warehouse rack storage systems for every need, including static and dynamic pallet racks, automated systems, and more. Whatever you are looking for, you can find it here. We fully customize every system to fit your industry's specific needs.
Storage solutions for every industry
Hammerhead offers unique racking solutions for every industry.
Interested in this product?
TALK TO A RACK

SPECIALIST
We'll recommend a custom solution for your space.