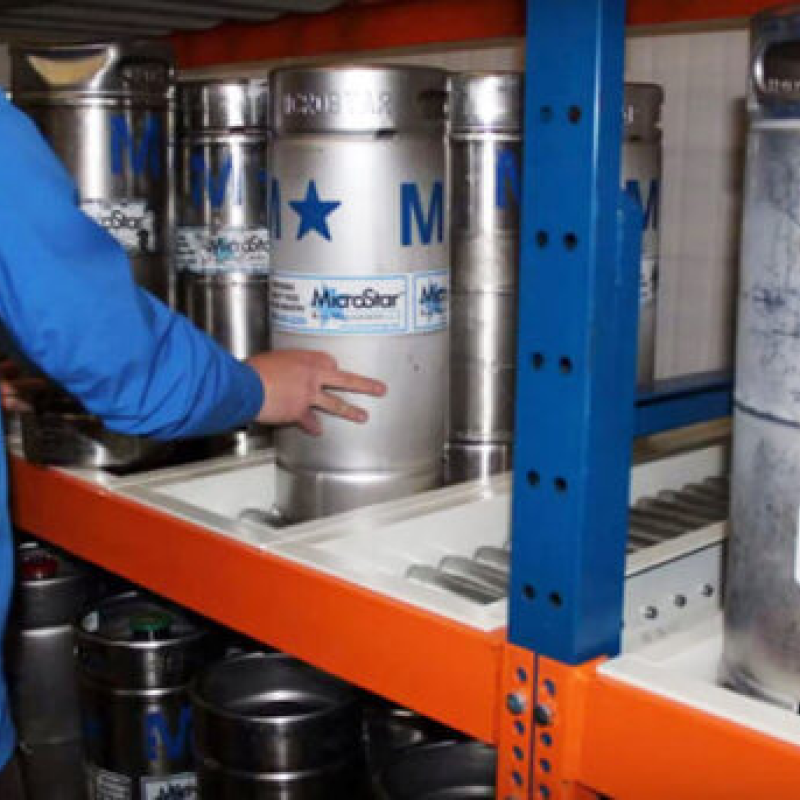 Beverage & Keg Storage Racks
Beer storage for breweries, wholesalers, & distributors
Our keg flow racking and pallet rack provide high density, multilevel storage systems for microbreweries, beer wholesalers, and distributors. Store bulk, pelleted beverages above and replenish the keg flow system below in order to create the perfect flow for their business model. 
Our beverage storage system will help with faster and more accurate picking operations, speed up of inventory counts, and provide a cleaner and safer working environment
Benefits
Features
Recommended Uses
•  Greater Storage Density and Organization
•  Increase storage capacity in the same footprint
•  More Efficient Order Picking
•  Ideal for either LIFO or FIFO applications
•  Can pick/load from either side of the rack
•  Free Up Floor Space
•  Speed up inventory counts
•  Consolidate and Maximize SKU Storage
•  Safer Work Environment
•  Accommodate storage for all keg sizes
•  1/6th and ¼ barrel kegs are ideally suited to be stored on the bottom beam levels. We can accommodate storage for all keg sizes such as; Half Barrel Kegs (1/2), Sixth Barrel Kegs (1/6), or Slim Quarter Barrel Kegs (1/4″).
•  Half kegs are easily stored on floor mounted tracks
•  Beer Wholesalers
•  Beer Distributors
•  Beverage Wholesalers
•  Beverage Distributors
•  Commercial Breweries
•  Microbreweries
Explore other racking systems we offer
Our large inventory features an extensive collection of warehouse rack storage systems for every need, including static and dynamic pallet racks, automated systems, and more. Whatever you are looking for, you can find it here. We fully customize every system to fit your industry's specific needs.
Storage solutions by industry
Not sure what racks might work best for your space? Browse our industry specific solutions and their recommended products
Interested in this product?
TALK TO A RACK

SPECIALIST
We'll recommend a custom solution for your space.