Pallet Racking Installation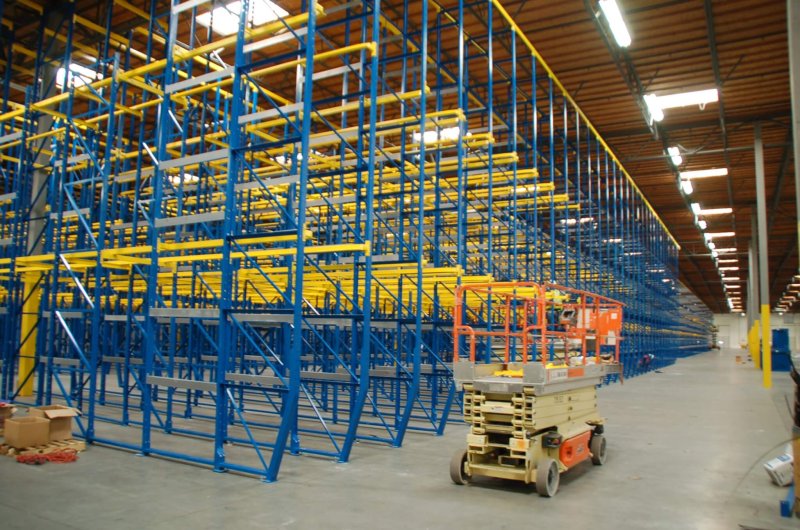 Our team of experienced pallet rack installers have been working in the material handling industry for years, providing pallet racking installation services, including repairing, removing, and fixing pallet rack systems.
Hammerhead Material Handling currently has over 200 experienced warehouse racking installers nationwide with regional crews ready to tackle any size pallet rack system. We have experience installing all types of pallet racking services, shelving, conveyors, VRCs and other storage equipment. In addition to pallet rack installation services, we can also install rack accessories such as decking, rack protection, rack flue stops, safety netting, mesh partitions, and more. Our ability to modify products on site so they fit right lets us customize to your facility's specific needs.
We provide a clear scope of the project along with timelines and let you know exactly what we need in order to get our work finished safely and quickly. Whether it's a simple selective rack job for a 10,000 sq. ft. warehouse or complex pick module system in a 2,000,000 sq. ft. distribution center, we can do it all.
Pallet Racking Installation & Guidelines
Rack Installation Guidelines
Rack Installation Guidelines
• Warehouse racking installers must have at least 10 years of experience installing all types of complex rack systems.
• Every installation team is experienced, insured, professional, courteous, efficient, clean, and safety minded. 
• Every installer is required to work under OSHA regulations.
• Uniforms, harnesses, steel-toe boots, hard hats, eye and protection must be worn.
• Rack installers must clean up after themselves so as not to disrupt the ongoing business.
• Work within the business's constraints, needs, and schedules.
• Create an efficient and time-saving plan.
• Properly shim and anchor the racking system per installation plans to guarantee that the system is plumb and square.
• Install the system per the permitted plan stamped by the city.
• Inspect all components as per the bill of materials.
• Ensure there is nothing damaged or missing and notify the project manager so that the job can be completed on time and on budget.
• Pull permits if required.
Rely on our professional pallet racking installation services for all your racking system needs. Contact us today for a free consultation!
TALK TO A RACK

SPECIALIST
We'll recommend a custom solution for your space.