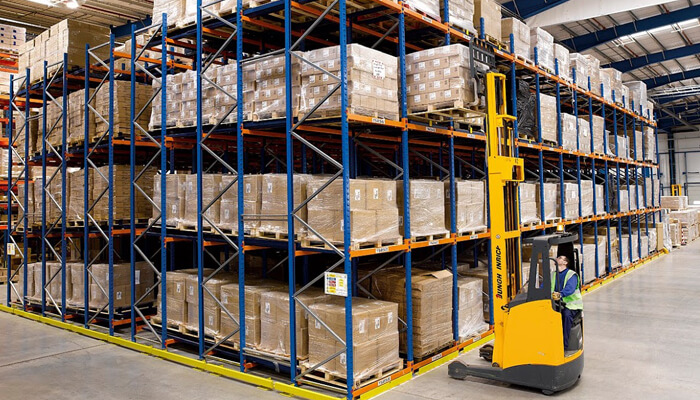 Push Back Racks

| High Density Storage on Carts & Wheels

Push back racks provides an excellent combination of pallet accessibility and high density storage. In push back rack systems, a pallet is placed by the lift truck onto a "cart" and then "pushed back" into the rack by the next pallet being loaded into the rack system.  When the front pallet is removed, the pallet behind it slides forward to assume the front position. Push back rack uses carts that are mounted on rails, also known as "lanes" which are installed in the rack structure. Although push back racking is the most capital intensive racking, it offers the highest density storage like drive in rack but comes without the added liability of forklift operators entering the racking structure.
Available in roll formed or structural steel
Pallet is stored on a carts-on-rails system
Each push back lane can accommodate 2-6 pallets per bay
Pallet stops keep the pallet from rolling off the front end
Eliminates aisles, increasing storage density
Flexibility to store multiple SKUs on each level
Low profile cart stack offers maximum storage height
Suitable for all pallet sizes
Improved selectivity of multiple SKUs compared to drive-in rack
Reduced forklift handling time compared to drive-in rack
Decreased chances of forklift operators damaging rack compared to drive-in rack
Minimizes honeycombing effect compared to drive-in rack
Front only loading from a single aisle, similar to Drive-in rack
Requires a slope lane as well as stacked carts, therefore additional vertical spacing is required.

The deeper the lane, the more vertical space required

Products on the pallets must be strapped or stretch wrapped to the pallet in a secure fashion in order to safeguard against shifting on the pallet or spillage in the rack system
Products must be positioned square and straight on the pallets to avoid damage to the Products and hang ups in the rack
Structural frames and beams recommended at loading face
Forklift operators must slowly unload the pallet, pallets in the rear will come to the front end as the fork truck reverses
LIFO – Last In First Out storage
Inventory with multiple SKUs
Facilities with different sizes pallets­­
Facilities with high turnover rate
Frequently Asked Questions About Push Back Rack
Push Back Rack Pictures
+35 Years in the Storage & Material Handling Industry
Leading the industry, we strive to bring you the absolute best customer experience in the industry and take the stress out of buying rack. We've got you covered.