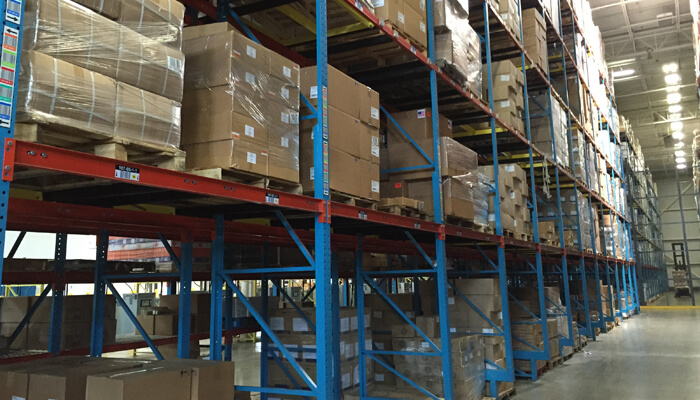 Structural Pallet Rack

 | Heavy Duty Steel Pallet Racking
Structural pallet racking has a rigid c-channel design and is created by being hot rolled and welded together. This unique process enables heavy duty load capacities while offering superior protection to your pallet rack to minimize forklift damages. Structural pallet rack is also ideal for warehouses with harsh environments such as freezer distribution centers or outdoors storage. Structural Pallet Racking is easy to clean and is perfect for storing food where sanitation practices are routinely performed. Structural pallet racks provide the perfect solution for heavy-duty storage; they're designed to handle high load capacity and reduce high maintenance costs. They provide easy accessibility to stored items and maximize your storage space, making them ideal for heavy traffic areas. Manufactured for strength and durability, our heavy-duty pallet racks are easy to install and offer a cost-effective solution to your storage needs. Increase operational efficiency and productivity with our high-quality structural pallet rack systems that can handle various product and pallet sizes. Contact our professionals today for recommendations and to discuss storage requirements for your facility.
The most heavy-duty steel frames and beams available on the market
Superior strength, durability and rigidity
Reinforced steel C-Channels
Fully bolted construction (beam-to-frame connection)
Interchangeable with bolted roll formed beams
Beams adjustable on 2" increments
High quality powder coat finish makes it more resistant to water and corrosion, better looking, and last longer
Thicker steel, particularly in the corners which are primary points of impact
Greater damage resistance compared to roll formed racking
Higher load capacity
More resistant to seismic forces
Interchangeability with roll formed beams reduces costs and supports other accessory attachments providing the best solution and value
Low maintenance
High through-put, high traffic applications and high abuse areas
Drive-In Rack
Drive-Thru Rack
Push Back Rack
Pallet Flow Rack
Pick Modules
Cold Storage
Distribution Centers
Perimeter of rack systems where fork trucks are more likely hit

Interior rack may consist of roll formed steel (Hybrid)

Heavy fork truck use areas
Welded Structural Steel Frames available in 3", 4" and 5" posts
Structural Beams available in 3", 4", 5" and 6"
Structural Pallet Rack Pictures