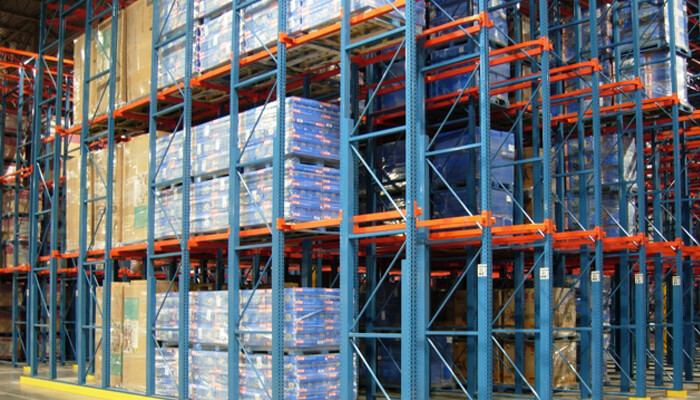 Drive In Racks

 | High Density Storage for Last In, First Out Inventory
Drive In Racking offers high density storage, perfect for batch loading and unloading for last in first out system method of storage and retrieval. Drive in racks allow users to store multiple pallets deep in each bay, minimizing the number of access aisles and often increasing storage capacity by up to 40%. The forklift operator "drives into" the pallet rack system and deposits the pallet on the desired level and then reverses back out. Drive in racks have only one entry/exit point in each bay and is therefore closed at the opposite end, it is best used against a wall or along a closed end of another system. Drive-in racking can store up to 30% more than conventional selective racking due to reducing the need for picking aisles. Drive Thru Rack is also available for both rear and front entry points and is best suited for warehouse staging areas where one forklift is picking from the front while the other fork truck is replenishing pallets from the rear.
Available in roll formed or structural steel
Pallets placed in a back-to-front arrangement
Store products on continuous rails that allow lift trucks to place and retrieve pallets
2-10 pallet deep system
Drive in racking available in single or double wide applications
Most cost effective high density storage solution
Utilizes space efficiently
Eliminates aisles, increasing storage density
Requires standardized pallets
All products stored in a bay should have the same SKU to avoid unnecessary pallet handling
Challenging to rotate time sensitive products
Limited access to pallets in the rear
Use a cant-leg upright or upright/column guards to mitigate fork lift damage at entry points
Sacrifice selectivity for higher density storage
LIFO – Last In First Out storage and retrieval system
High volume, low SKU storage – Warehouses storing large quantity of the same product
Cold storage facilities
Storage of common sized pallets
Seasonal items that move quickly out of inventory
Staging Areas – Situations where an entire bay would be moved at once
Frequently Asked Questions About Drive In Racks
For Drive in rack, we recommend storing anywhere from 2 to 10 pallets deep per bay.
As the fork truck enters the rack at the entry/exit point, the fork truck operator must ensure the pallet is a few inches higher than the rails and then drive the pallet to the farthest available pallet position and lower the fork slowly until it rests on the rail. Drive in rack uses two rails which are installed within the rack to support the weights of the pallets. The fork lift operator must load the pallets from top to bottom or vice versa, but must load an entire column of pallets before moving on to the next column in order to maximize storage efficiencies.
Drive in rack is best used for storing large quantities of a small number of SKUs and is not recommended for time sensitive products. If you're looking to maximize storage capacity and eliminate aisles while keeping costs at a minimum then drive in racks are perfect for you. Although drive in rack is very cost effective, the price comes with sacrificing product selectivity and the added liability of fork lifts operators entering the rack structure.
Drive In Rack Pictures