Pallet Racking Inspection & Warehouse Safety Auditing Services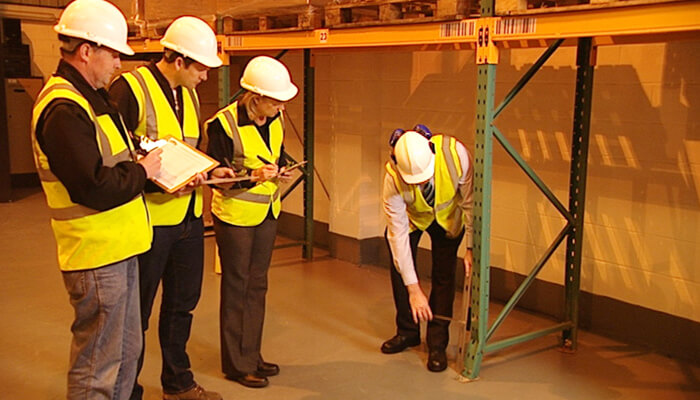 When it comes to pallet racking, efficiency is a function of safety, and optimizing your warehouse's flow requires a regular review of your systems. These steps will help you ensure the safety and wellbeing of your workers. At Hammerhead, our 35-plus years of designing warehouse racking systems makes us uniquely suited to offer pallet racking inspection and warehouse safety auditing to your organization.
Pallet Rack Safety Inspections
Hammerhead Material Handling offers pallet racking inspections and safety auditing for reviewing warehouse racking systems for rack damage, rack safety issues, remediation, reconfigurations and relocations. Each inspector has prior racking experience before they go through a rack inspection training program to immerse themselves fully into the rack repair side of the industry.
Our specialized warehouse rack inspection services are designed to increase safety and reduce damage in your facilities by regularly and thoroughly monitoring your facility's pallet rack systems. Improve efficiency, provide a hazard-free workspace, and avoid fines with our expert safety inspection services. We understand that safety is a number one priority in a warehouse environment and strive to deliver the highest-quality pallet racking inspection and safety auditing services to our clients, providing them with peace of mind. Our experienced team members work closely with each client to understand specific needs and develop custom-built solutions.
Our professionals come to your facility to inspect, identify and recommend pallet racking safety solutions, giving you a comprehensive report indicating any problem areas. You decide what works for your company and we can help implement those solutions into your warehouse or racking system.
Don't compromise the safety of your facility. Our pallet racking inspection services ensure your warehouse meets safety industry standards by performing safety checks and quickly addressing any issues that arise. You can trust that our experts will work with you every step of the way helping you safely manage your facility.
Pallet

Rack Inspections 

and Warehouse Audits Include: 

 
Site Surveys and safety reviews with the facility manager
Drawings showing the location of all safety concerns and rack damage
Scope of work descriptions
Requirements of the facility manager and racks to be unloaded
Rack protection recommendations – guarding, post protectors, bollards
If you are looking for more information about our pallet racking inspection and warehouse safety auditing services, schedule a free consultation and contact us today!