Warehouse Farming Systems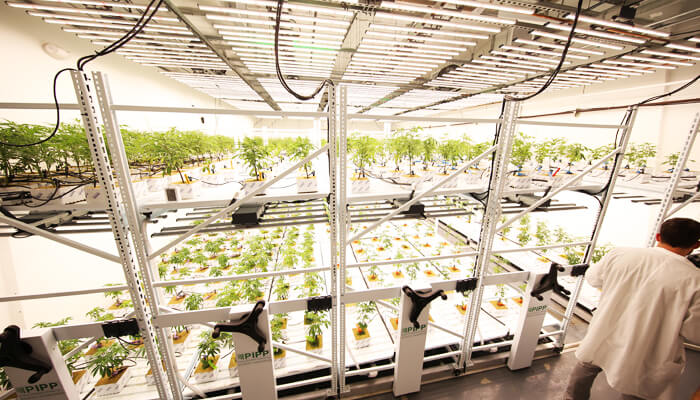 Vertical Grow Systems | High Density Indoor Vertical Farming Systems
Hammerhead works with indoor farmers trying to maximize their profit potential by supplying versatile warehouse farming systems and vertical grow systems that help increase crop production capacity, reduce energy inefficiencies and improve harvesting efficiency. Using our mobile pallet rack systems, we can increase your production capacity up to 100% by eliminating unnecessary aisles and using wasted over head space. By creating fully customizable high-density vertical growing systems, we give farmers the chance to create generic or crop specific systems that provide the most ideal conditions to grow big, healthy and thriving plants.
By helping farms maximize their yields per square foot, we empower farmers to supply sustainably grown foods and crops to urban and rural areas around the USA. Help distinguish yourself from the rest of the industry and reap the benefits from going with a sustainable vertical warehouse farming system.
Features and Benefits of Vertical Grow Systems
Maximize vertical and horizontal farming space
Increase profits per square foot in warehouses
Mobile Rack increase production capabilities by 100%
Easily integrate your personal preferences of in-rack lighting, watering systems, CO2, air circulation, etc.
Mobile Rack System – Move your racks with the push of a bottom or manually with hand cranks
Rail System – Allows for rack to move side-to-side, eliminating unnecessary aisles
Automated and Manual Mobile Rack Systems – Move your racks with the push of a bottom or manually with hand cranks and eliminate unnecessary aisles and wasted space
Stationary Rack System – Economical solution for Vertical farm production
Cloning and drying racks with castors also available
Vertical Farming Applications

Vegetables
Lettuce
Microgreens
Legal Cannabis – Recreational and Medical Marijuana

Indoor farms using sustainable energy practices
Contact the experts at Hammerhead Material Handling today to learn more about our highly efficient warehouse farming systems!