Flow Racking for Food and Beverage Distribution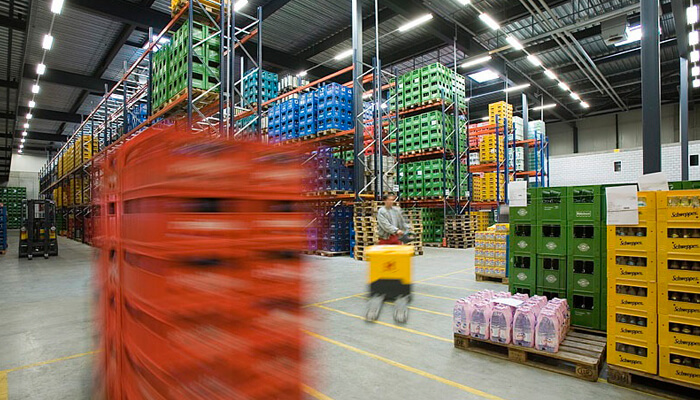 Racking for Food and Beverage Warehouses
Especially when it comes to food and beverage storage at the warehouse distribution level, flow racking becomes an important—if not absolutely vital—aspect of optimizing your organization's efficiency. More than solving space constraints or allowing your inventory to scale with your company's growth, our racking solutions focus on mitigating product disorganization to eliminate inefficiencies in your order picking. This results in fewer inventory count errors, missed deliveries, and other issues which may arise in warehouse spaces where inventory is not properly racked.
Hammerhead LLC has been in the material handling business for more than 35 years, and in that time, we've learned that efficiency and orderliness are key aspects of a profitable business. This is particularly true in the warehousing space. As such, our organization offers a turn-key service that ranges from surveying and quoting to consulting and installation to system integration and maintenance. Our goal is to optimize your warehousing space, and through collaboration, develop the ideal flow racking system for your inventory.
When it comes to pallet rack systems for food-grade warehouses, Hammerhead is the premier provider of flow racking and related inventory management services. This is a result of our consistent ability to develop smart storage solutions that result in a greater ROI for a client's storage space. It's also worth noting that beyond improving or replacing existing racking, we can also provide long-term maintenance services, including safety audits backed by our full-service in-house installation team. What's more, we have a dedication to excellent customer service and a transparent process that keeps you informed, up to date, and clear on timelines and expectations.
If you have any questions related to our flow racking for food and beverage distribution, please don't hesitate to reach out to us via our contact page. We look forward to hearing from you.
Commonly Used Rack Combinations in Food & Beverage Facilities
Carton flow rack on lower levels with selective rack above
Carton flow rack on lower levels with push back lanes above
Keg flow rack on lower levels with selective rack above
Keg flow rack on lower levels with push back rack above
Space constraints
Floor space being cluttered
Product disorganized
Inefficiencies in order picking
Inventory count errors
Missed deliveries
Safety issues