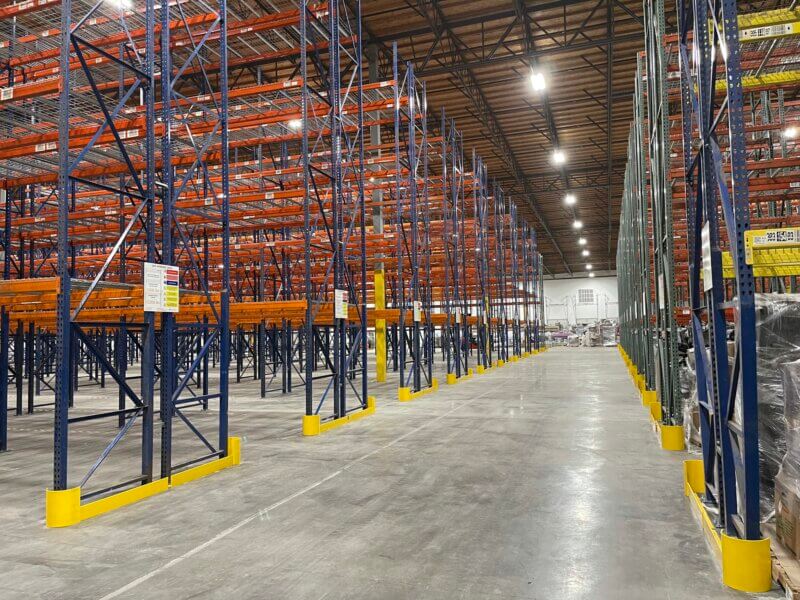 We Design Smart Storage Solutions For You
Hammerhead LLC. is a single-source provider of storage and material handling solutions that gives warehouses and logistics professionals the productivity and space utilization they desperately need in the distribution industry. Through a wide variety of storage products and full maintenance services, Hammerhead assists clients to maximize their warehouse storage space, improve warehouse safety conditions and gain profitability by improving inefficiencies in their warehouse operations.
Hammerhead designs, specifies, integrates and installs state-of-the-art storage solutions including both static and dynamic pallet racking systems. Systems include popular selective and drive in racks, to pick module rack systems, pallet flow racks, push back racks, pallet shuttle systems, mobile racking systems and more.
We design innovative storage systems to help owners and operators of distribution centers realize their best return on investment. Hammerhead delivers and installs your equipment on schedule and on budget. Then, we assist in protecting your employees, buildings and property through ongoing safety surveys, pallet rack repairs and pallet rack protection. Our pallet rack installation, repair and maintenance team can solve any issues you might be facing with your warehouse storage and conveyor systems.
Our Values
Service
Selection
Experience
Price
Professionalism
Quality
Being customer centric, we pride ourselves on providing excellent value for our service and storage products to our clients. That's why we bring them a wide portfolio of products to select from depending on their price range, requirements and the desired user functionality.
Who We Serve
3rd Party Logistics
Ecommerce Fulfillment
Food & Beverage Facilities
Cold Storage & Freezers
Archive & Record Storage
We realize that every company has different needs based upon their products, location, storage methods and financial standing. We serve companies in almost every industry, helping every client improve their warehouse functionality and storage capacities.
What We Do For You

Maximize Storage Capacity
Improve Warehouse Organization
Enhance Workflow Efficiency
Create Safe Work Environment
Cultivate Trusting Long-Term Partnerships
We bring you the best value in products and make it a smooth buying process for our customers with no headaches. Every project receives the highest level of customer service and project management.
Hammerhead's mission is to bring damaged or deficient racking systems back to their original condition or better to give hassle free long lasting life of our customer's assets. We provide long term maintenance service contracts that include safety and maintenance audits backed by a full service in house installation labor team to keep our customers up and running.
Over 35 Years in Distribution Facility Experience 
We find ways to give you the best ROI on your storage and material handling equipment and find creative ways to save, which ultimately saves our customers valuable capital and gives a higher return on investment. With the combined experience of our Hammerhead team, we have handled almost every type of project and encountered every scenario possible. We know the storage and material handling business inside and out, and are here to guide you through the process and proactively solve all issues related to your project. Let us do the work for you.
On-going Support & Maintenance Services
Hammerhead Material Handling. stays involved long after the installation is complete we offer extended maintenance agreements for racking repairs, remediation and upgrades. We can also disassemble rack and move it to new locations, or sell it for you. Racking systems are more than just static equipment and must be maintained to ensure safe operations of your facility. Hammerhead is more than just a rack systems integrator, we provide long-term maintenance and services for pallet rack, pick modules, flow racks, conveyors, flooring, guarding, netting, or other safety equipment.
Hammerhead Leadership
Jeff Andrews, President of Hammerhead Material Handling., Inc. has been leading sales teams and project managers in the storage and material handling industry for over 35 years. Jeff has extensive experience in both the manufacturing side of the business, as well as distribution and integration. As a former owner of a rack manufacturing company, he knows the processes that it takes to produce quality products from roll-forming and welding to the final painting process. As an owner of a successful systems integration company, Jeff also understands the importance of proper design, implementation and service to our customers.
Jeff is that past President of The Rack Manufacturers Institute (RMI). The RMI is an international member association of storage equipment manufacturers that oversees the engineering, manufacturing, and installation guidelines for the pallet rack industry to ensure safer work environments and maintain high standards for rack manufacturers.
RMI is a multi-billion dollar manufacturing association whose members supply distribution and warehousing companies with various pallet racks, cantilever racks, pick module systems and rack decking. RMI is a sub-association of the Material Handling Industry (MHI), a group of manufacturers whose storage and material handling equipment provide over $154 billion to the supply chain industry annually.
This includes racks, conveyors, AS/RS, AGVs, lift hoists and warehouse management systems to name a few.
Jeff is also a member of the Material Handling Equipment Dealers Association (MHEDA) and has been a member of other industry associations such as: Materials Handling & Management Society (MHMS), International Warehouse Logistics Association (IWLA), International Association of Refrigerated Warehouses (IARW), International Association for Cold Storage Construction (IACSC), Northwest Food Processors Association (NWFPA), Retail Industry Leaders Association (RILA), Professional Records & Information Services Management International (PRISM),  Association of Records Managers & Administrators(ARMA), and others.
Jeff co-wrote The Rack Manufacturers Institute's "Guidelines for Rack Repair & Remediation". He has also been a featured industry speaker at both PROMAT and MODEX Conference Expos. His presentations regarding rack and warehouse design considerations have helped introduce show participants to the latest racking technologies and how to evaluate the best capital investments for their projects.
Teamwork
It begins with training our employees to be focused on our customer's vision and project needs. We then cross-train our employees to grow their capabilities to handle multiple aspects of any project. Many of our employees are experts in Systems Designs, AutoCAD, Estimating, and Project Management. Our goal is to have each Hammerhead team member grow to their fullest potential, thereby, providing our customers with the most insightful and responsive service in the industry.