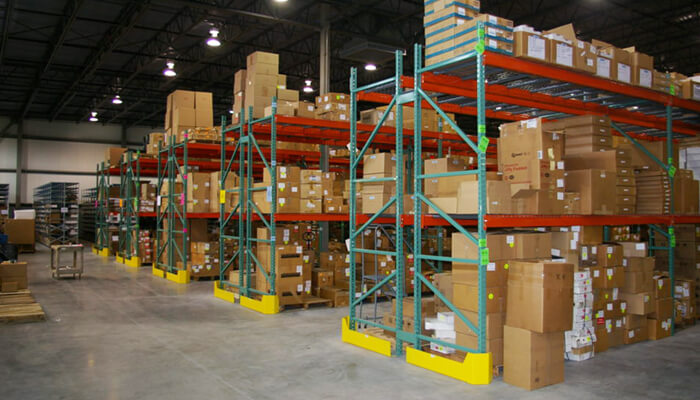 Roll Formed Pallet Rack

 | Medium Duty Standard Racking
Roll Formed Racking is a cold rolled coil that is run through a roll forming machine which bends the flat coil into the various beam and frame sizes. Roll Formed Rack is the most common pallet racking seen in most warehouses today due to it's relatively cheaper price tag compared to the heavy duty structural rack. Roll formed racking can easily be adjusted, relocated or reconfigured in any warehouse.
Boltless assembly
Open column design
Available for selective, carton flow, pallet flow, and drive-in rack
High quality powder coat finish makes it more resistant to water and corrosion, better looking, and last longer
Quick and easy installation
Greater flexibility compared to structural racking
Roll formed racking has a high capacity with less steel
Roll formed racking is a less expensive solution compared to structural steel
Capable of re configuring beam height to accommodate new product and/or pallet sizes (with approval from professional engineer)
Distribution centers storing medium weight products
Warehouses with less fork lift interaction

We recommend column and/or frame guards in high traffic fork lift areas

Retail, commercial and industrial applications
Back room storage areas
All hand loaded applications
Where cost is top priority
Catwalk systems
Internal frames and beams in pallet flow and push back system that are not likely to be hit
Low throughput applications
Available in 3" and 4" wide columns, 3" deep and 1 5/8" deep
Available in cant-leg and step-back leg designs
Available in 14 gauge through 11 gauge
Available in 16 gauge through 14 gauge
1½" interior step along the top inside edge of the beam, making it ideal for wire decking, crossbars, drum holders and other pallet rack accessories
End brackets available in 2-Pin, 3-Pin, and 4-Pin depending on your load capacity
Beam heights are available in 2½" through 6" high
Roll Formed Rack Pictures
+35 Years in the Storage & Material Handling Industry
Leading the industry, we strive to bring you the absolute best customer experience in the industry and take the stress out of buying rack. We've got you covered.