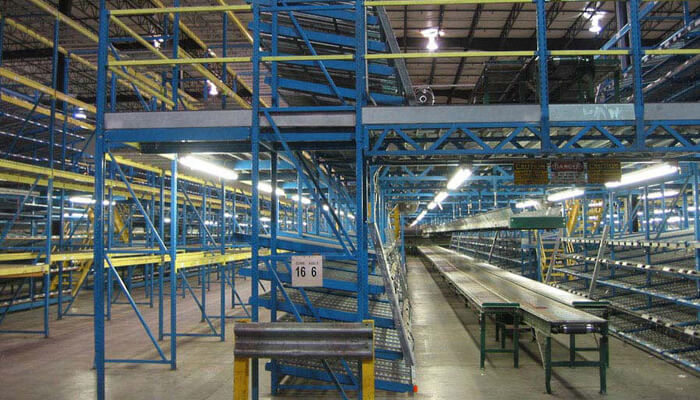 Pick Module Rack System

 | Hybrid Pallet Rack System for Maximum Product Flow
Pick module storage systems are multi-level work platforms that utilize pallet flow, carton flow, selective and push back rack which feed into a central pick aisle to optimize product flow in picking operations. In these flow through concept systems, product is moved from pallet racks to the pallet flow or carton flow racks. Once they are broken down into cases or cartons, they are picked, processed and prepared for shipment. These high throughput, high volume systems, typically include conveyor systems within the rack structure to accelerate the order fulfillment process. Replenishing SKUs is performed with fork lifts on the outside aisles of the rack structure and uses gravity to ensure the picking faces are stocked.
Available in roll formed or structural steel
Incorporates combination of pallet flow, carton flow and shelving for pick, pack and ship operations
Multiple stacked levels for pick operations
Optimize product flow
High throughput order fulfillment
Improved warehouse organization & efficiency
Maximize warehouse space
Separate loading and picking aisles allow safer movement between fork lifts and employees
SKU replenishment does not interfere with operator picking
Lower fulfillment costs
Integrates all phases of distribution
Various flooring types available
Multi-level platforms require stairways and adequate egress
Require empty box removal usually on trash conveyors
Needs reverse flow lanes for empty pallets
Grating recommended under pallet flow for safety
FIFO – First in First Out storage
Order fulfillment centers
Flow through concept distribution operations
Rapid order picking
High SKU Traffic
High throughput
Pick Module Rack System Pictures
+35 Years in the Storage & Material Handling Industry
Leading the industry, we strive to bring you the absolute best customer experience in the industry and take the stress out of buying rack. We've got you covered.