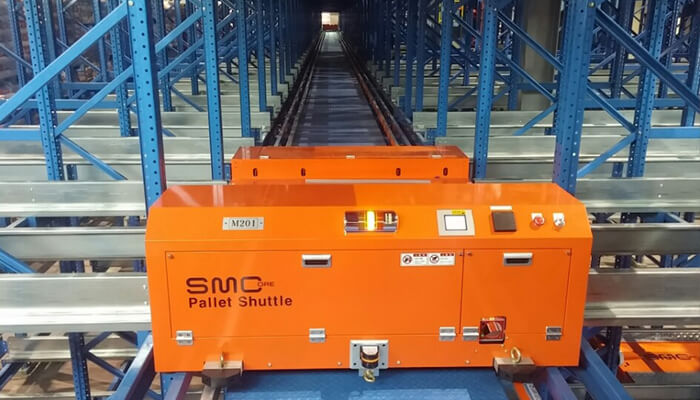 Pallet Shuttle

 | In-Rack Storage & Retrieval Shuttle
Our semi-automated pallet shuttle storage and retrieval system is great for retrieving or loading pallets within the rack structure. After a shuttle is placed on a rail system in the desired lane by a fork truck, a controller will enable the shuttle to begin loading or unloading pallets. Using our software and sensors to analyze the density, the shuttle system moves pallets to the deepest available location possible and keeps track of inventory within the structure. Once loading or unloading is completed, simply pick up the pallet shuttle, place it in another lane and repeat the process.
Hold up to 5,000lbs weight
High grade sensors – detect occupied pallet positions
Shuttle can be loaded using a forklift or hydraulic lift
Quicker loading & unloading times
Less risk of accidents – fork truck damaging rack
Deep lane storage (+30 pallet positions each lane)
Eliminates aisles in warehouses
Increased number of SKUs in each row of rack
Height between levels is minimized due to added height of shuttle
Battery operated – back up batteries are recommended to reduce lead time
Shuttle need to be moved from lane to lane by fork truck
Consider purchasing more shuttles in order to expedite the loading and unloading in multiple lanes as demand grows
All industries
LIFO
Warehouse & distribution centers
Ideal for cold or freezer applications
Where deep lane storage is necessary
Against walls – utilizes space efficiently
Pallet Shuttle Videos
Pallet Shuttle Pictures
+35 Years in the Storage & Material Handling Industry
Leading the industry, we strive to bring you the absolute best customer experience in the industry and take the stress out of buying rack. We've got you covered.