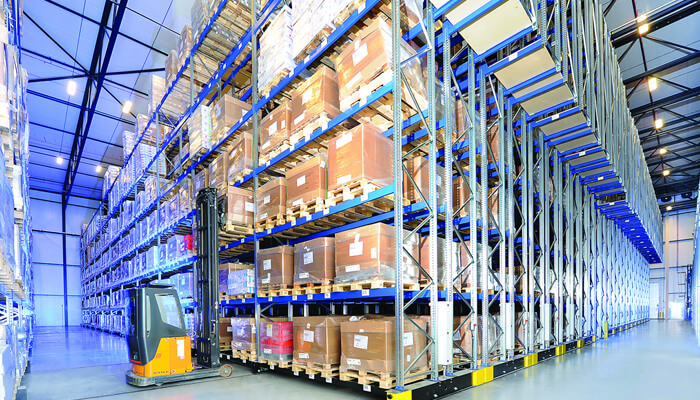 Mobile Pallet Rack

 | Moving Pallet Racks for Ultimate Selectivity
Mobile pallet rack systems are a great way to increase storage capacity using basic automation and minimal investment. The rack moves in a lateral direction on rails, allowing access to each pallet when operator requests access. These systems are simple and easy to use and can be utilized for small or large facilities. Eliminating a number of aisles allows mobile pallet rack systems 20% higher storage capacity compared to selective pallet rack systems of the same space.
Simple aisle control with control button on each upright
Aisle locking function
Racks move laterally on rails installed in the floor
Warning lights and buzzer for safety purposes
Emergency shut off
Rack distance sensor, safety sensor and bumper for each section
Max Speed: 10m/min
Access to all pallets
Eliminate aisles – Efficient use of space
2 to 2.5 times more storage than selective rack
WMS and ERP integration
Advantages for cold storage
Time – Racks need to be moved to be accessed
Rails need to be installed first for rack to move on, this means facility floors must be clear for rail installation
General warehouse and distribution centers
Cold Storage facilities
Low-medium throughput applications
Mobile Pallet Rack Pictures
+35 Years in the Storage & Material Handling Industry
Leading the industry, we strive to bring you the absolute best customer experience in the industry and take the stress out of buying rack. We've got you covered.