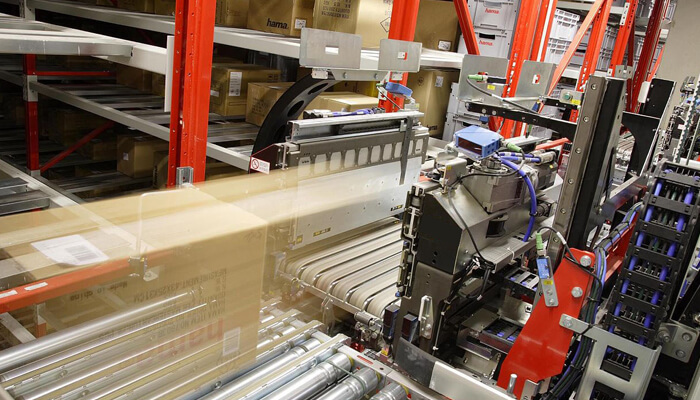 Mini Load ASRS

 | Automated Order Picking System for Boxes & Cases
Mini load systems are miniature automated storage and retrieval systems that provide quick and efficient storage for cases of containers of smaller items. Using a stacker crane that moves along a rail system, the mini load ASRS is able to store and retrieve boxes at different heights, eliminating the need for manual picking and utilizing the height of your warehouse space. The speed, reliability and accuracy of mini load systems increase picking operations for small or irregular goods in boxes.
Power supply – BUS bar
Single or double box loading or unloading
Max weight: 110 lbs. per box (50 kg)
Fully automated, semi-automated or manual product selection
Increased productivity & efficiency of picking operations

Automated picking
Quicker picking
Accurate picking

Increase throughput – quietly and smoothly
Easy to use – quick learning curve
Uses WMS for fully automated system or manual selection for hand picking
Streamline the order fulfillment process
Products can be stored at greater heights compared to hand picking operations
Product is replenished with new box for organized inventory control
Product will need to be picked from box via operator
Raw materials & finished goods with a light weight
Work-in-process buffering for multiple kinds of items
Order fulfillment centers
Small batch picking
Pharmaceutical
E-commerce
Any picking operation
Mini Load ASRS Videos
Mini Load ASRS Pictures
+35 Years in the Storage & Material Handling Industry
Leading the industry, we strive to bring you the absolute best customer experience in the industry and take the stress out of buying rack. We've got you covered.