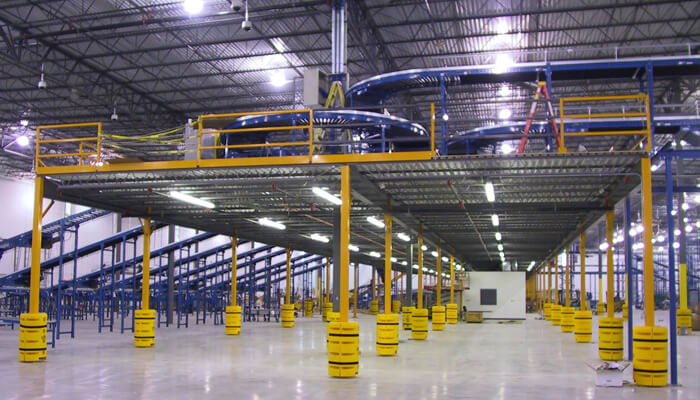 Mezzanines

 | Go Vertical, Add More Offices or Storage Space in Your Warehouse.
Mezzanines provide warehouse or manufacturing facilities extra work space and storage by utilizing wasted air space. A warehouse mezzanine often doubles or even triples the amount of useful space in warehouses and can eliminate the need to move or expand your existing building.
Free standing mezzanine or rack supported mezzanines are available
Structural steel – maximum strength and rigidity
Custom free standing mezzanines with wide span column placement
Rack supported mezzanines offer shelf storage above and/or below
Product lifts or conveyors may be integrated to allow movement between levels
Utilizes wasted space overhead
Increase cubic storage or office space
Can be considered a capital equipment – may qualify for tax advantages
Can be reconfigured and/or expanded at a later date
Easy installation
Custom designs fit any existing warehouse layout and budget
Compatible with a variety of shelving or storage systems
Stairways will be required
Additional car parking spaces may be required depending on city requirements
Floor slab loading should be considered
Footings may be required
When designing a Mezzanine, it is important to consider the access-ways, work systems, products, and handling methods in order to plan accurately.
Any distribution center, warehouse or manufacturing facility with wasted overhead space
Elevated offices
Conveyors and sortation equipment
Dock Areas
Mezzanine Pictures