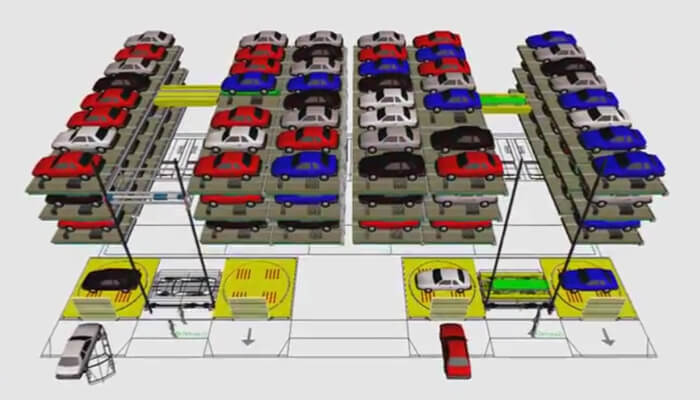 Automated Parking System

 | Automated Storage and Retrieval System for Car Parking
As a global leader in automated storage and retrieval equipment, Hammerhead has a proven track record in rack supported building design and engineering, combined with material handling automation technology, to create the most efficient multi-story parking system available.
High Density Vehicle Parking
Modular rack-supported building offers multiple configurations
Single or double deep car storage or deep lane shuttles for longer term parking
Provides up to five times more parking spots compared to conventional parking lot of the same sqft.
Triple the capacity of conventional multi-level concrete parking facilities
Accommodates small and luxury cars
Able to build 40'-100' high, above or below grade
Great for short term and long term parking
Flexible floor plans for high density or single deep.
Easily programmable
Turn-key installations
Erected in half the time as a conventional multi-story parking lot
Substantially less material and labor cost.
Low maintenance
Relocatable
Remotely controlled for easy troubleshooting
Improved revenue per square foot
Reduces land required
Increased parking capacity
One-fifth the price of a concrete multi-level parking lot.
Low maintenance compared to conventional parking lots and structures
Low operating costs
Excellent Tax benefits – depreciated as equipment
Time efficient at 1-2 cars per minute
Customized with flow of traffic.
Fully automated
Easy to use swipe cards
Integrated turntables
Convenient drop-off and pick-up in central location
Safety from vandalism and theft

More secure than a typical parking lot.
Monitored 24/7

Eco-friendly

Environmentally efficient – less energy needed
Utilizes hydrogen fuel cells – not part of the electrical grid
Less exhaust fumes

Speed and Safety are top priorities

No auto accidents or damages to cars
+35 Years in the Storage & Material Handling Industry
Leading the industry, we strive to bring you the absolute best customer experience in the industry and take the stress out of buying rack. We've got you covered.