Archive Storage Racks
For Records Management Facilities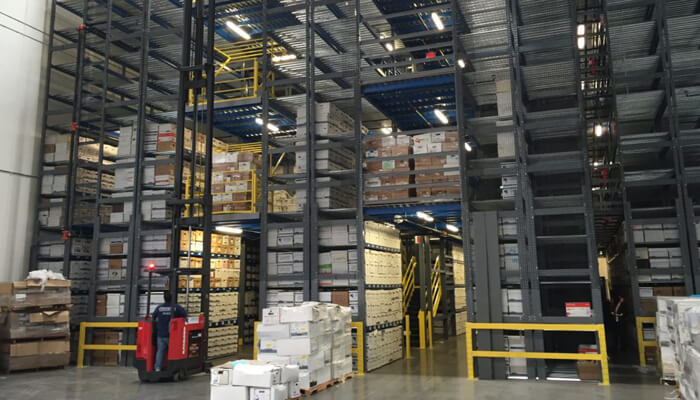 Archive Storage Racks 

| Storage Systems for Boxed Files and Records
Archive storage racking is used for storing file boxes contains paper records such as legal documents that typically require long-term retention in records management facilities. Made up of roll formed pallet rack, connected by multiple catwalks and stairways, archive storage shelving allows for maximum storage density since most file boxes become relatively inactive over time. We find creative ways to create as many box locations as possible while keeping costs down for our clients so they can realize higher rate of return on their investments. We offer two different styles of archive shelving systems. The catwalk system consists of multi-tier platforms where workers hand pick boxes. Our order picker style consists of tall narrow rows of rack where boxes are hand picked by an operator using a order picker vehicle.
Multi-level narrow aisle "catwalk" systems offer the highest density storage.

Catwalks are typically 9'- 10' apart vertically, while service aisles are generally 30"- 36" wide and storage heights vary but are designed from 20'- 80' high.

Archive storage rack is also available in "man-up order picker" style where boxes are stored and retrieved from the fork truck platform.

This style is limited to 30'- 55' high and the aisles are typically 56″- 60″ wide.
Improve organizational efficiency by allowing easy storage and retrieval of files.
Highest density storage is available, increasing revenues and allowing for a quicker return on investment.
Catwalk systems do not require forklifts (usually served by VRC lifts).
Roll formed rack systems are less expensive cost per box.
Order picker style archive rack is less expensive than catwalk systems but are also 10-20% less dense.
Store file boxes 3 high and 3 deep per shelf level.
Commercial record management centers
Private record management centers
Storage of thousands of file boxes
Archive Storage Racks Pictures