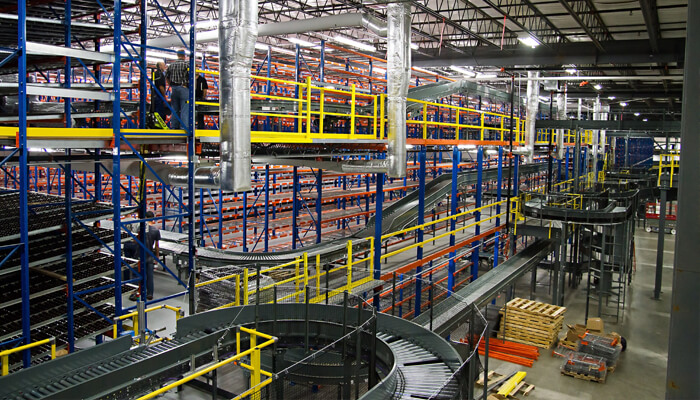 Conveyor Systems
The types of conveyors available to move products is staggering.  You can move, sort, lift, divert, merge, accumulate and create a more organized, efficient, and productive workplace while making more money.  Conveyors are typically the first type of automation in most factories and warehouses.   You can start with a simple skate wheel conveyor for loading trucks and possibly expand to large multi-level pick modules in distribution centers.
Used for loading and unloading products, order-picking and transporting
Great for picking and packing operations
Able to merge conveyor lines together and sort products for stocking or shipping
Transport all sizes of boxes, full pallets or raw goods
Modular systems are easy to expand with straight sections, curves and accumulation zones
Incline conveyors move products to and from mezzanines and are reversible
Available in gravity, powered, inclined, telescopic, circular and countless configurations
Frees up space for production areas
Multiple options for speeds based on need
Accessories like diverters, mergers, optional belts, rollers, hoppers, chutes
Trash conveyors for takeaway of empty boxes
Floor supports of any height as well as the ability to hang from ceilings or mezzanines
Bulk conveyors for grains, rocks, silage or even sewage
Improves productivity – saves time
The conveyor moves the products, rather than manually or with fork trucks
Higher speed of throughput
Less damage to products
Less human error
Better ergonomics and less injuries
Incline and decline conveyors eliminate the need to carry products up and downstairs
Pick Module Rack System Pictures
+35 Years in the Storage & Material Handling Industry
Leading the industry, we strive to bring you the absolute best customer experience in the industry and take the stress out of buying rack. We've got you covered.